Oh no! It's Halloween week – that time in the series when the usual rules of ballroom and latin dressmaking go out of the window and we get ridiculous frocks that are all style over substance. I have grown to hate Halloween week so it's with an amount of trepidation that I have fired up the iPlayer and launched Week 6. Hold my hand, I'm going in ….
Sunetra:
Oh, what a nice surprise, a frock that is actually a lovely little thing! This kind of frill is right up my street. Achieved by running light wire through the bias binding at the hem (fishing line works really well) the frills come to life with the slightest movement. With so much going on in the skirts, the bodice was best kept sleek and close fitting, anything else would have fought with the frills. It was an odd colour combination though, DSI have used it before and I have yet to be convinced that it really works. The lacing up the front was possibly one design feature too far, but overall it was a nice mover on the floor.

Alison:
DSI building on what they know works for Alison so taking the basic cut and extending the length and adding extra floaty bits. It whirled around quite ethereally, but the pearl decoration over the bust was far too subtle and under the lights the frock just became an expanse of white, with nothing to break it up. It was only when Alison was being interviewed that I could truly appreciate the decoration. If they'd wanted to keep it simple and elegant, crystal or AB stones would have been a better option.

Kristina:
I remember the first time someone wore a catsuit in open competition in the 80's. She was the only one wearing such a thing and all eyes were on her – what a stir it caused. These days not so much and they crop up on SCD quite regularly. But I have a question - if Kristina was supposed to be a spider, why did she have a tail?! Well I'm presuming that bit of material hanging at the back was supposed to be a tail! It was certainly in an odd place to have been anything else. Kristina looked sleek and slippery in jet stones and black lace and it was very clever of her to wear black shoes. I don't really like black latin shoes as they can make the feet look a bit clumpy, but because the catsuit extended into her shoes, it elongated her legs nicely. A very vampish look, but it's not really a frock now is it?!
Ola:
blimey I didn't recognise her! Wow, what a look. Not something you would wear on the competition floor, although leaving off the skeleton decoration and mad make up reveals the dress to be a tidy little fringed number. Out of all the Halloween theme frocks offered up over the series' this is one of the better ones, although someone should've reminded DSI exactly where the pelvis ought to be!
Pixie:
Geez! Who knew the girl had so much hair! OK well, I quite liked the cute cutaway under the collar, and the colours are great, with the black and white striped pieces showing up dramatically on the floor, but it was essentially another unstructured bunch of chiffon type of skirt that doesn't really do much for the lady and certainly doesn't dance at all well. I also didn't like the blobs of fuschia colour on the back, they looked very random.
Judy:
Aw Dalmatians! I don't know who thought it would be a good idea to bring them onto the dance floor, but dog claws and polished floors are not a winning combination. No wonder they refused to co-operate!. Judy's frock however was lovely, all those glittering stones caught the light nicely and I liked the high criss-crossed neckline, but I thought that the sheer black body stocking was a bit heavy handed and I would have preferred to have seen it as a flesh tone. The diagonal ruffle added some interest at the front, it broke up the bodice quite nicely and as Judy is a straight up and down kind of shape, it took the eye away from her waist and down into the skirts, where the volume balance her shoulders. It danced nicely enough but as with all of Judy's ballroom gowns, I would just love to see it on a more dynamic dancer, to really be able to see it move. Anyway, I'm just thankful Tony didn't dance in that onesie!
Janette:
I guess they couldn't make their minds up whether she was going to dance in a catsuit or a dress, so plumped for both! She fluttered around the floor like a sparkly bat, working those skirts like a trouper. Now hopefully you noticed how Janette did the exact opposite of Kristina and managed to foreshorten her legs by wearing skimpy strappier shoes which showed her flesh, making the end of the catsuit legs very obvious.
Caroline: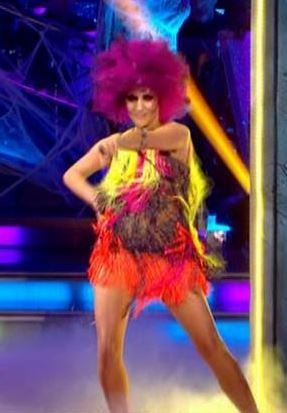 Oh no, the poor girl must have got caught in a demonic car wash and arrived a t the studio with no time to get changed. How else can you explain what they have dressed her in this week?! This was one train wreck of a dress, the colours were awful, the seemingly random placing of yellow fringing on the back was distracting and with that purple wig the effect was simply dreadful. The girl is a decent dancer, so maybe DSI feel the need to handicap her. Frankie's pick and mix Paso dress is sublime compared to this one!
Joanne:
I love the shape of this frock, the sheer godets contrasting against the matt black of the velvet bodice and they dance so nicely too, flaring out beautifully, a great way to add volume in the skirts but at the same time ensuring the frock stays sleek and close fitting over the hips. My only gripe is that with Joanne's long black wig, it was just lots of blac, black, black. The flash of colour in a deep v at the front was a welcome relief, but as soon as she went into hold it was lost and there wasn't enough interest in the back view.
Karen:
great emerald colour, very unusual but lovely on her. I'm liking the styling in the bodice which DSI use frequently. The loose and fluttery sheer blouson over a close fitting stoned top achieves a nice relaxed look with a bit of sparkle. The dropped waist is another recurring detail this series and it gave the whole ensemble an 80's ra-ra skirt kind of feel. Although I liked the short skirt I would have preferred it to have been finished at the hem and not left as raw edges. I'm also not feeling the trailing ivy brought anything to the dress and if I were Karen I think I might have 'accidentally' got it caught on a door knob or something.
Frankie:



knowing they were dancing to a song from Wicked, I knew they were going to dress her as either Glinda or Elphaba, neither of whom have great frocks for dancing a Tango in, but I wasn't prepared for this hotch-potch of green. You have to be careful mixting different greens, not all of the compliment each other. To begin with, I really liked the flashes of brilliant green underskirt that showed when Frankie danced, they really lit up the whole look. But I was terribly distracted by the overskirt, I couldn't make out if it was crinkled fabric or if it just needed a good iron. Either way I wasn't keen on it being longer than the underskirts, it drooped rather sadly when Frankie stood still and looked oddly proportioned. Still it could've been worse, they could have put her in Elphaba's grey gymslip!

So there we are then, another Halloween done with and I'm struggling to pick favourites. I'd have to go for Sunetra's in the Latin but I would want to change the colours, and Judy's for Ballroom but with a flesh body stocking.

What was yours?



-------------
Remember, Ginger Rogers did everything Fred Astaire did, but backwards and in high heels.