Digital Spy: Anna Williamson's Showbiz Peek at the Wee




http://api.addthis.com/oexchange/0.8/forward/email/offer?pubclass=digitalspy&url=http%3A%2F%2Fwww.digitalspy.co.uk%2Fshowbiz%2Fs101%2Fdancing-on-ice%2Fnews%2Fa364568%2Fdigital-spy-anna-williamsons-showbiz-peek-at-the-week.html&title=Digital+Spy%3A+Anna+Williamsons+Showbiz+Peek+at+the+Week -

-

Now, I normally love the snow. It's pretty, picturesque and means I have full permission to act like a child making snow angels and snowballing the heck out of anyone and everyone I see. Until last weekend.

I live in the middle of nowhere - beautiful in the summer, totally impractical in the winter, as I discovered. Not only did my Saturday social plans go totally awry, but it meant that my much-anticipated annual trip to Dancing on Ice on Sunday was thrown into question.

Thankfully, a rather robust car (and a very helpful boyfriend) proved to be a life saver. OK, I might have turned up rather early (to be on the safe side and a first for me!) and looking like a tramp in snow boots and a woolly hat, but it'll take more than a little bit, well six inches, of snow to stop me making http://www.digitalspy.co.uk/celebrities/one-direction/ - One Direction week!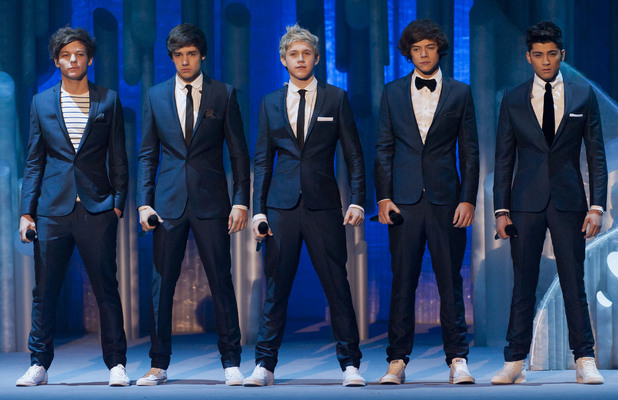 As predicted, nice to see the die hard 1D fans camping out outside the Elstree Studio gates hoping their wait in the slush and cold was worth it to see 'their boys'. They weren't disappointed. Contrary to reports of a pre-recorded performance, I can confirm the boys DID show up for the first live show.

OK, they may have been at the studios the day before as well, but they were definitely there to perform alongside Torvill and Dean AND they sang live. Sure, the tuning was a tad dodgy in places but who cares? The sight of the cheeky chappies working the crowd and looking rather fine to boot was enough to let anything go on this occasion.

The whole of ITV's soap-land seemed to rock up to this week's show to lend support to their ice-skating comrades, including of course http://www.digitalspy.co.uk/celebrities/matthew-wolfenden/ - Matthew Wolfenden and http://www.digitalspy.co.uk/celebrities/andy-whyment/ - Andy Whyment . I seemed to be sandwiched in between a battle of the soaps, with Chris Chittell (Eric Pollard) on one side on Team Matt, and http://www.digitalspy.co.uk/celebrities/kym-marsh/ - Kym Marsh on the other supporting Team Andy.

Chuck in the still loved-up Jennifer Metcalfe and Sylvain Longchambon, Jeff Brazier, http://www.digitalspy.co.uk/celebrities/kerry-katona/ - Kerry Katona ... it was a who's who of the Dancing on Ice Class of 2011. There was also royal presence in Zara Phillips and Mike Tindall, who I was thrilled to see partake in the half-time doughnut and portaloo scrum like everyone else. They may be blue blooded, but not too posh for the Bloo Loo like the rest of us peasants.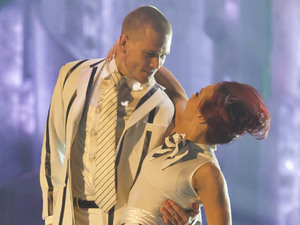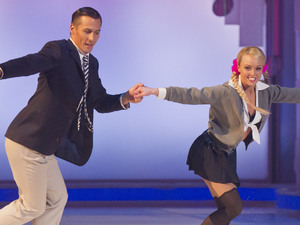 Never mind the skaters this week, judge http://www.digitalspy.co.uk/celebrities/louie-spence/ - Louie Spence upped his game. Switching from last week's 'strait jacket ensemble' to this week's 'chef chic', he wasted no time getting in on the action in showing Dallas veteran http://www.digitalspy.co.uk/celebrities/charlene-tilton/ - Charlene Tilton a thing or two, demonstrating a vertical splits 'on a tilt' (whatever that is?). Judging by the look on http://www.digitalspy.co.uk/celebrities/christine-bleakley/ - Christine Bleakley 's face - she was inches away from the groin thrust that ensued - he showed her more than a thing or two!

Ribbing aside, Louie really has become my favourite judge ever. His sheer energy and passion is infectious, and if only the cameras were able to capture his hilarious 'chair' dancing while the celebrities were taking to the ice. To be honest, depending on who's skating, it would make for far more entertaining telly.

Sorry to see Charlene go this week, but it was the right choice. Bravo for attempting the full splits TWICE (ouch), but your time was up, Missus. Other than http://www.digitalspy.co.uk/celebrities/jorgie-porter/ - Jorgie Porter , who is seriously good - even better watching skate in the flesh - there are no girls that can even come close at the moment.

Matt Wolfenden doesn't want to sit on his laurels too much as http://www.digitalspy.co.uk/celebrities/chico/ - Chico and http://www.digitalspy.co.uk/celebrities/sebastian-foucan/ - Sebastian Foucan have rapidly upped their game (that's a sentence I never thought I'd say) - so much so that when the skaters had a little warm-up during the ad breaks, I momentarily mistook them both for pros.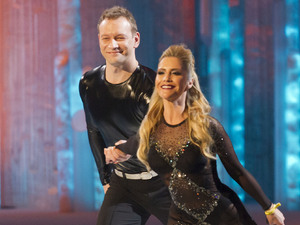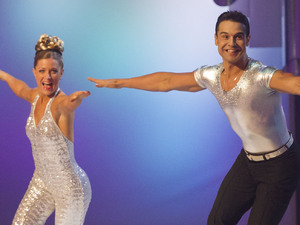 Oh and I've decided from looking at the seriously hot and newly skinny minnies http://www.digitalspy.co.uk/celebrities/heidi-range/ - Heidi Range and http://www.digitalspy.co.uk/celebrities/jennifer-ellison/ - Jennifer Ellison ... I need to sign up to ice skating! OMG, the honed and toned washboard stomachs and pert butts are more than enough incentive. Err, hello Lee Valley Ice Rink....!

http://www.digitalspy.co.uk/showbiz/s101/dancing-on-ice/news/a364568/digital-spy-anna-williamsons-showbiz-peek-at-the-week.html - Source


-------------
http://www.theblueroom.me.uk/forum/forum_topics.asp?FID=280 - Big Brother 11