Nicolo: 'My song was wrong'

Printed From: The Blue Room
Category: Reality TV
Forum Name: The X Factor 2013
Forum Discription: All the news and gossip
URL: http://www.theblueroom.me.uk/forum/forum_posts.asp?TID=29558
Printed Date: 24 Mar 2018 at 13:42


Topic: Nicolo: 'My song was wrong'
---
Posted By: Alex
Subject: Nicolo: 'My song was wrong'
Date Posted: 12 Oct 2010 at 11:07
---
'X Factor' Nicolo: 'My song was wrong'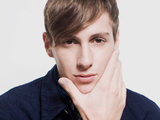 Nicolo Festa has said that he blames his exit from The X Factor on the song which he performed on Saturday night.

The 21-year-old Italian performed Lady GaGa's 'Just Dance' on the first X Factor live show, while wearing dark sunglasses and being accompanied by cabaret-styled dancers.

Following his performance of the 2008 number one, Festa http://www.digitalspy.co.uk/tv/s103/the-x-factor/news/a281319/nicolo-festa-fyd-eliminated-from-x-factor.html - exited the show on Sunday night after receiving the fewest public votes.

Speaking on This Morning today, he revealed that he felt the song, performance and styling had led to his downfall.

Festa said: "I haven't watched the performance back, I don't think I will. I have a feeling that it was very entertaining - but it was wrong.

"I think the song was wrong, I think it was a little over the top. It was a great production but maybe not for the first show. The glasses were totally wrong and I totally understand Cheryl [Cole]'s comment."

Explaining the decision to wear sunglasses during the song, Festa added: "During rehearsals I was very tired and my eyes were swollen and red, so the glasses were a mutual idea.

"But we didn't think about the connection with the people at home."

http://www.digitalspy.co.uk/tv/s103/the-x-factor/news/a281515/x-factor-nicolo-my-song-was-wrong.html - Source


-------------
http://www.theblueroom.me.uk/forum/forum_topics.asp?FID=280 - Big Brother 11
---
Replies:
---
Posted By: Alex
Date Posted: 12 Oct 2010 at 11:24
---
Originally posted by Alex

Explaining the decision to wear sunglasses during the song, Festa added: "During rehearsals I was very tired and my eyes were swollen and red, so the glasses were a mutual idea.

"But we didn't think about the connection with the people at home."



Such a stupid error, it cost him his place in the competition.

I STILL want to know who's voting for Wagner and Desperate Dan aka Storm Lee
Joke acts, sure there were some great over 28s (which is YOUNG ffs!) they passed over for these novelty acts



-------------
http://www.theblueroom.me.uk/forum/forum_topics.asp?FID=280 - Big Brother 11
---
Posted By: Laura
Date Posted: 12 Oct 2010 at 19:33
---
oh Nicolo.
Which numpty - working on a live TV show where popularity and hotness is everything - didn't think of the importance of audience connection? FFS. We can't expect someone as pretty as Nicolo to have to think for himself.
---
Posted By: James
Date Posted: 13 Oct 2010 at 12:21
---
Face facts, Nicolo pal, you were shit and that's that. I've no IDEA what Dannii was thinking but then it's not the first time she's made a stupid mistake like that.

-------------

---