Week four, the field is getting smaller and so are some of the celebrities! It's around about this time in the series when we see belts being added to pull in bodices that are now a little too big, and other adjustments being made in the cut of latin skirts as the ladies get a bit more body confident. The dressmakers job on Strictly doesn't end when the dress is complete! Let's have a spin around this weeks' frocks.
Frankie: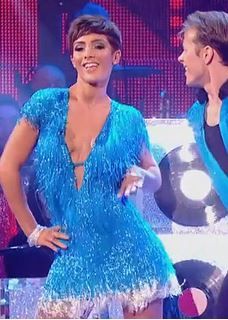 what a gorgeous little dress this is. Both beaded dresses and fringed dresses enhance a dancer's movement, however beaded dresses behave better due to their weight - this was sleek and slinky when stationary and an explosion of sparkle and shimmer on the move. The little criss-cross of silver was perfectly placed to show off the small of Frankie's back and the structured shoulders resulted in a more defined silhouette overall. I liked the band of silver which defined the hem, a nice touch which accentuated the flutter of the skirt and of Frankie's hip action.
Karen:
after the last couple of weeks Karen was due a lovely frock, and she got one! The delicate creamy champagne colour looked beautiful on her. The diagonal lines of the straps across Karen's back were nicely echoed in the lines of stones radiating from the neck, a very light touch on the bodice was appropriate since there was a lot going on in the skirt fabric although the detail in the fabric was lost largely due to the pale colour under bright lights (it was a sort of Damask, with little crescents of satin).. I am undecided on the peplum however - the shape was nice when Karen stood still, but it looked odd on the move. Belts on ballroom gowns are not usually to my taste (and I didn't like this this one although it might just have been a decorated waistband), however a wide belt would have balanced the peplum and given a sharper look. But it danced nicely and Karen looked great.
Judy
it's taken me a while to realise that there is a body stocking in these cutaway dresses she's been wearing. I have never seen body stocking so well colour matched to a person's skin tone before, and it is brilliant! The cape style sleeves are very Ginger Rogers, and fluttered nicely adding much needed movement to Judy's stiff upper half. The pleated skirt did its' job, however had there been some underskirts it would have danced far better and not got flattened against her legs on the forward steps.
Kristina:
another throwaway Frankencostume of black fringed shorts over a silver leotard with some bits of fabric tacked on. Fitting the pearly queen theme of the dance but not really a dance frock at its' best. It did allow all the energetic moves to be performed without fear of getting a heel caught somewhere (the curse of Anya) but being able to see the white flashes of the leotard underneath the shorts was sloppy and showed a lack of attention to detail.
Alison:
a version of her blue and silver dress, well hey if it works once right?! Undulating fringes working their magic and that paler strip down the front breaking up her torso and drawing the eye to a vertical line. Combined with a faux v-neck, achieved with body stocking, this style is very flattering. DSI are wisely keeping the bodices of Alison's frocks very soft and unstructured, allowing freedom of movement without her looking trussed up.
Joanne:
An uber feminine delicate pink and white creation, revisiting last years' style notes of covering the stoning up to diffuse the effect and colour. Beautifully cut skirt, with that strip of net at the hem combining with the underskirts in frothy layers so that Joanne looked like she was floating on air.
Ola:
Maybe it's in every dancers' Strictly contract that they must wear at least one unflattering costume per series. This was Ola's. Now Ola has a lovely figure and as they used to say about Marilyn Monroe, she would look good in a sack, so how on earth did DSI manage to make the girl look like she was dragging extra poundage on her backside? This was an ill advised combination of a stock ensemble fringe dress, with the cuttings from a floral number stitched on the back. Who looks at something like this and thinks that binding it all together with black straps will make it come together as a cohesive costume? They need to make the sides of the remnant box higher to stop these poor ladies from falling in it so often.
Pixie:
The ethereal wafting around in a floaty number is a tricky one to get right, you run the risk of looking like you got trapped in your Mum's muslin curtains. Caroline's red number from the other week was dire, however this one was lovely. The strong colour was knocked back by using only one layer of sheer material, and a barely there smattering of stones kept the look light and contemporary. If I'm being picky the join at the back of the hip gaped on occasion, but this was a minor point. Pixie carried it well, with confidence and looked beautiful. I'm also very pleased that they didn't give her an old lady hair style this week!
Natalie:
Hmmm a frock very much of two halves. A gloriously sumptuous bodice of shimmering gold bugle beads, I love the way they are staggered and overlaid to hang in overlapping points - very skilful indeed. But while this top half was structured and well behaved, the bottom half just went it's own way! Unstructured floaty layers of skirts of varying lengths flew around Natalie like wraiths. There was something about the colour combination of navy gold and pink, that didn't work especially well for me. The sheer navy material knocks the gold back to a very odd shade which doesn't sit well with the pink. Style wise a nice enough gown, but I'd like to see it re-worked in more tonal colours.
Sunetra:
silver and pink is always a nice combination, but this is the precise shade of pink that I dislike the most. Still, the cut was good in the skirts the ruching keeping the look tight over the hips and flaring out below. But the longer bit at the front was getting on my nerves, it looked very messy and was flapping about. Closer inspection on the DSI site reveals the skirt is cut differently now, with not as pronounced a dip at the front. Was it cut this way for Sunetra to feel more comfortable? Possibly, the way she was tugging at the skirts afterwards suggests that she wasn't entirely happy with the costume.
Iveta:
although this is a simple skirt over a leotard, the colour combination of cream and green gave a beautiful vintage look to this frock. It danced quite well, although the fabric in the topskirt was maybe a little stiff. I did not see the point of the flowers across the bodice. They looked cheap and, of course, when Iveta went into hold you could no longer see them. Actually that's a bonus. Lovely colour scheme, but it's a case of taking a leotard from here, add a skirt from there and disguise the join with a bit of decoration. A 'frock by numbers' I'm afraid.
Janette:
Black and white is a great combination for a frock, it's a great contrast on the floor and you can really stand out from the crowd. This was a punchy number, with big bold black and white stripes. Using jet stones on the black stripes was subtle but effective, to do anything else would have been disastrous. I didn't like the bow at the front, I think there was too much going on for it to work, but I see it picked out the gingham detailing of Jake's shirt. I can't believe I'm saying this, but I would have liked to have seen a sparkly scarlet belt instead. I'm not sure it danced very well for a latin dress, but it was certainly a striking look on the floor.
Caroline:
An example of how a frock can be tweaked and changed on the fly. Originally designed to be a jewelled sleeveless bodice with a skirt edged in ribbons. The skirt has been chopped to a shorter length, the ribbons are gone and a halter neck made from winding a length of blue fabric around the waist and up the side of the bust. The question is why? Some dresses look fab on paper but on a real live person you see where they are just the wrong length, or that an aspect of the design doesn't dance very nicely. My best guess is that Caroline has toned up and the dress is now sitting too low on the hips and too loose on the body. The blue fabric would pull it all in and disguise a low waist too. Conjecture of course, I'd have loved to have been a fly on the wall during the dress rehearsal!
So there we go, another week of mixed feelings! I was talking this over with a dancer friend of mine this week. She said that she believes the dressmakers don't consider Strictly as the important 'shop window' for their gowns. In the fourteen years that they have been in the business of making frocks, the number of DSI sponsored couples has grown, not just professionals but in the amateur and junior ranks too (which never happened in my day), and are the true adverts for the company. When you can get close enough to a dress at a comp to appreciate the quality of the fabric and the detail of the decoration, THAT'S when sales are secured. So perhaps it's not such a surprise to see so many frocks this series just falling short of the mark.
Right, enough of the moaning, my favourite frocks of this week were Frankie's shimmering blue latin and Joanne's classy ballroom.
What was yours?


Edited by Bren - 26 Oct 2014 at 23:04