Josie Gibson 'wouldn't host Big Brother'
Friday, May 6 2011, 09:20 BST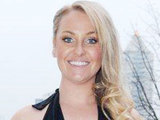 Josie Gibson has said that she does not want to host Big Brother.
Speaking to
Digital Spy
, the winner of last year's show explained that although she thinks she has a strong showreel, there are candidates better suited to taking over Davina McCall's role when the show returns to screens on Channel 5.
"I wouldn't like to take over from Davina," she said. "I wouldn't get asked, anyway. "I've been presenting and I've got a really good showreel now but I wouldn't get asked anyway because my experience is not there - not like someone like Emma Willis or Brian Dowling."
Willis, who is currently a contender to take over from McCall, has stated that
she would "probably get a pasting" from her critics if she took the role
.
However, Gibson admitted that she has a keen interest in hosting a spinoff show along the lines of E4's
Big Brother's Little Brother
.
"I would love to be involved in
BBLB
," she added. "Because I've been in [the house] as well, it would be nice because I'd understand what they're going through. So I'd love to do that, but I don't even know if they're bringing
BBLB
back.
"Even if I don't get picked, I won't feel like a loser because at least I've tried. You never feel like a failure if you've tried your best."
Gibson's new reality show
There's Something About Josie
launches on Monday, May 9 at 10pm on Channel 5.
Channel 5 is
now accepting applications for series 12 of Big Brother
, which
will launch in late summer with a celebrity edition
.
source