Beharry 'overwhelmed by DOI support'
Wednesday, March 9 2011, 13:37 GMT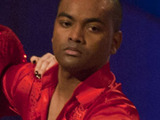 Johnson Beharry has admitted that he is overwhelmed by the public support he is receiving during
Dancing On Ice
.
Speaking to the
TV Times
, the soldier said that he wanted to use his time on the ITV1 show to inspire others with injuries.
"It has been overwhelming," he said. "A lot of people have been asking for my advice and I've been speaking to them on Twitter. Every comment has been positive - people say I inspire them. I thank them and continue my journey.
"For me the programme isn't about competing, it's about healing myself so I can help others to do the same. I am here to show everyone who has an injury that there is life after what happened to them. They just need to adjust and work within their limits and then they can achieve what they set out to do."
He noted that, although training for the show is "tough", it is "really aiding" his recovery.
"I treat it more as rehab than a competition," he said. "Every day I'm doing something new and I'm getting stronger, not only as a skater but within myself - physically and mentally."
On being recognised in public, he added: "It's actually really good because now I'm getting to use that power to help others and to show them what they could do if they put their mind to it."
Dancing On Ice
continues on Sunday at 7.10pm on ITV1.
Source


Edited by Bren - 09 Mar 2011 at 15:49