Jeff Brazier: 'DOI fall cost me votes'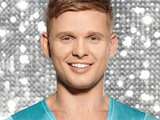 Jeff Brazier has claimed that falling during his latest
Dancing On Ice
performance cost him some public support.
The TV presenter and his partner Isabelle Gauthier made a fast recovery from their stumble on Sunday night's show, but ended up in the skate-off. Writing in his
MSN
blog, Brazier admitted he had learned that making mistakes would lose him votes.
"I remember it taking what felt like ten minutes to actually hit the deck; a real slow motion moment, and when my routine came crashing down you can imagine the solitary four-letter-word that resounded in my head," he said.
"Auto-pilot is a wonderful thing! My actions at that point were not my own but I recall getting up impressively quick, and good on Isabelle for finding where we were in the music because getting back into the song so quickly kind of made it slightly less unbearable, although I clearly lost a heap of votes for going over.
"The
Dancing On Ice
audience is a fair one. They are a performance loving community and we can now take from my dip in votes that if you stack it, you're in trouble!"
However, he went on to insist that he was still enjoying the "positives" of taking part in the competition.
"Firstly, I know if a mistake happens again (which it will) I know I'll get straight back up and carry on," he said. "Secondly, I know I can take the pressure of a skate-off: I found it easier than the first attempt and I relaxed and enjoyed it. It was a chance to make things right.
"I'd have to believe in myself being saved over a few others in the competition if it came down to technical ability in a skate-off, so with that in mind, what's to fear?"
He added: "Fear and skating go hand-in-hand but I've seen the difference when I skate with and then without it so it's time I started showing off what I can do instead of feeling self-conscious in front of 12 million people… hardly an excuse is it!"
Source
Oh and the rather distasteful (see what I did there?) article: 'Jeff Brazier tongues his own private parts' can be found
HERE


Edited by Alex - 02 Feb 2011 at 15:56