Flintoff throws support behind 'DOI' Cork
Friday, January 28 2011, 14:06 GMT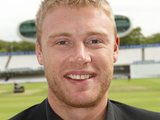 England cricket legend Andrew Flintoff has visited
Dancing On Ice
contestant Dominic Cork in training and thrown his support behind the reality TV hopeful.
Cork, who used to play with Flintoff, said that his old colleague's arrival had given him a confidence boost after finding himself in the skate-off last weekend.
"I felt that I had skated well enough to go through to this week's show so finding out I was in the bottom two was devastating," said Cork.
"Having Freddie in the studio on Sunday will make a huge difference. Knowing that your friends are in the audience rooting for you can help give you get that extra bit of motivation on the night.
"He is a real legend of English cricket and although he has been giving me some stick for the costumes I have been wearing he really wants me to succeed."
Flintoff added: "Corky is a great bloke and I really want him to go all the way in the competition, I think it was a little unfair that he ended up in the bottom two last week.
"If he stays in the competition it means I get to give him some more stick for the costumes he wears, but I have to give him credit, it looks incredibly difficult - they make it seem so easy on television!
"I just want to urge everyone that watches on Sunday night to vote for Corky - he's a legend!"
Dancing On Ice
airs on Sunday at 6.30pm on ITV1.
Source