'Dancing On Ice' Q&A: Nadia Sawalha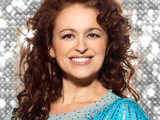 Actress and television presenter Nadia Sawalha will be one of the initial 16 contestants to take part in the new series of
Dancing On Ice
when it launches this weekend. We had a chat with Nadia following a 'Show & Tell', in which all the hopefuls saw each other perform for the very first time, to find out why she was initially reluctant to sign up and how she lost three stone before even beginning her training.
Were you nervous today watching all the other contestants on the ice?
"Really nervous. I can honestly say having got through today that I'm not worried about anyone else because I'm not at the level of anyone else. I'm worried about myself. I'm really competitive on myself now because you can't compete with the others. There is so many really good people. You've got 20-year-olds who are just flying around spinning on one finger. The thing is we were actually really entertained because it was like we were watching a show. It was a brilliant atmosphere."
What made you decide to sign up for the show?
"I went for the audition reluctantly, not wanting to do the job, because my agent made me go. I thought I would go to the audition, but I wasn't going to do it. Then in the audition they actually make you skate! Now, I've never skated before in my life but Karen Barber took me round and she had this amazing hold. She looked me in the eyes and said, 'You will not fall, you are going to skate'. I just believed her and she actually made me feel like I could really skate. I loved it. You feel weightless. It was that classic showbiz moment when I got off the ice and said to my agent, 'I've got to have this job'. Then I had to wait weeks and I really didn't think I was going to get it. I'm really weird with jobs, I never usually mind if I get them or not, but I really wanted to do this. Then I got the job and there was this nightmare when Karen wasn't there and I realised I was on my own."
Are you scared of injuring yourself on the ice?
"Yes, I am terrified!"
Have you been enjoying the experience so far?
"I think there's a real addiction to it. One of the reasons I wanted to do it was because I really wanted that feeling of a school show again. When you would do a show with all your mates and it would mean a lot but it wasn't the end of the world. It was about the fun that you're having backstage. I think that is what you have to keep a hold of the whole way through it."
What do your family think about you signing up for the show?
"My husband keeps saying that he should come down to the rink. But I want him to come down when I can just glide around!"
How does the training for Dancing On Ice differ from other fitness you have done before?
"Because you're on knives on ice! That's what's different! Basically you're starting from a position where you can't stand, can't walk, can't do anything. If you think, with
Strictly Come Dancing
, you walk into a studio and figure out what you can do. Here, we start in a position of not being able to even stand. So it's a massive challenge. We're actually having to do an awful lot and you think we're going to have to actually perform. Yet we can only have a maximum of two hours' [training] a day."
Have you lost any weight since starting the training?
"Well, I lost three stone before I started for my fitness DVD. But then I went to the physio on the first day and she said to me, 'With you being small...' For me, the world just stopped turning because somebody had called me small!"
Are you looking forward to all the outfits you will be wearing on the show?
"Yes, now I've lost weight I am. If I hadn't lost weight it would have been a nightmare."
Source