Metcalfe: 'I'm more clumsy off the ice'

4th January 2011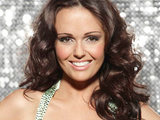 Jennifer Metcalfe has claimed that she has become more clumsy off the ice than inside the rink during her training for
Dancing On Ice
.
The
Hollyoaks
star told
Heat
that she has picked up several knocks and strains since she started practising for the ITV1 show, which starts this Sunday.
Metcalfe said: "I've pulled all the muscles down the left-hand side of my chest near my ribs. I'm so small on top and there's no meat or muscle there, so I injure easily. I've got loads of bruises, too.
"But I keep falling over off the ice more than on it. I think I concentrate so much when I'm on the ice that when I'm not I'm a clumsy dope. I keep going arse over t*t."
Asked if her
Hollyoaks
co-star and former
Dancing On Ice
contestant Kieron Richardson had given her any tips, Metcalfe replied: "We've been speaking about it loads and I showed him my first dance.
"He said it was pretty advanced. He's told me some ways to cheat, but I want to do it properly, so I'm not listening!"
Source