Torvill & Dean promise 'magical' new 'DOI'
Tuesday, January 4 2011, 12:51 GMT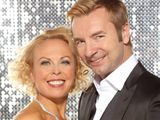 Jayne Torvill and Christopher Dean have said that the new
Dancing On Ice
arena will make the upcoming series "magical".
The sixth series of the reality show will be filmed at Shepperton Studios in HD following a move away from its regular home at Elstree.
Speaking about the changes on
This Morning
, Dean said: "There are lots of format changes and we have a new home. It's really magical. There's lots of lights and looks spectacular."
Commenting on the HD filming, he added: "It will allow viewers to get really up close and they will see the skaters' expressions and feelings on the ice. And the new set will look fantastic."
Dean also teased their own skating routines on the reality programme, claiming that they had something special planned for the launch show.
"We'll hopefully be doing our number again every week. We're trying to make it special and work with other artists from other fields," he said.
"We've got a really exciting opening number for this week, we don't want anyone to miss this opening, opening number."
Dancing On Ice
returns at 6.30pm this Sunday on ITV1.
Source