Aguilera defends raunchy performances
Tuesday, December 14 2010, 15:47 GMT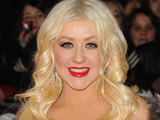 Christina Aguilera has dismissed claims that her performances are too raunchy.
Her comments came after it was
revealed
that 2,000
X Factor
viewers have complained about performances by herself and Rihanna on Saturday night's show.
"I don't think there is such a thing as too raunchy when it comes to the art form of burlesque," she told
Bang Showbiz
.
She continued: "I think it's very empowering to women to feel confident in their own skin and their own bodies and I think this movie definitely represents that."
Aguilera
attended
the UK premiere of
Burlesque
with Cher last night.
Source