Steve Brookstein live at Caffe Zero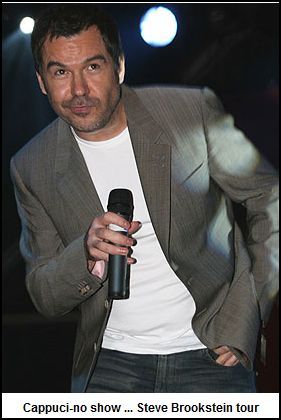 FORMER X Factor winner Steve Brookstein was treated like a has-bean when he faced playing to an EMPTY coffee shop on his, er, UK tour.
No one - not even one man and his dog - turned up to see the talent show's first ever champion at a branch of Caffé Nero.
So the 42-year-old singer who won X Factor in 2004, was forced to call off the gig. Steve, who is serenading latte drinkers at cafes across the UK, blamed a mix-up over the start time and a lack of publicity for his performance in Ipswich.
The singer has had a No 1 single and album, but he said: "I had been pencilled in to play at 6pm, only to find that the cafe closed at that time.
"Most people are heading home from work at 6pm and there was also only one small poster in the window. I think it could have been handled better."
Absent audience ... where were the fans?
Steve, who is promoting his new charity single, Don't Give Up, added: "It's disappointing but it's something I'll have to take up with the company's management. The previous Nero gigs have gone very well."
Nobody from Caffé Nero was available to comment last night. Steve hopes to return to play in Ipswich in the New Year.
The outspoken musician had a bitter, high-profile fall-out with Simon Cowell, but he has continued to write and perform.
Steve said he thought One Direction would win this year's show and described Matt Cardle as "a real talent".

The Sun