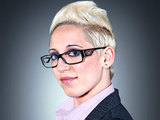 Apprentice
candidate Melissa Cohen struggles as the project manager on this week's bakery task.
Leading Team Synergy, Cohen has problems from the start as she attempts to organise the group's challenge. The food business management worker is left flustered in the opening meetings as her team can't decide on what baked goods to produce and she loses the confidence of her fellow contestants.
However, Cohen ends up in even more trouble when she goes in for her first pitch and completely muddles up her sums. Given five minutes to regroup by the managing director of the company she is selling to, she comments: "It's an absolute nightmare!"
During her second attempt at the pitch, Synergy are still confused about their figures and they end up getting told off by their potential client.
"I give you an opportunity of five minutes to go away and get your sums together and you come back to me 15 minutes later. I find that quite disrespectful," blasts the hotelier.
Afterwards, a seething Jamie Lester comments: "That was diabolical."
The Apprentice
airs tonight at 9pm on BBC One.
SOURCE