Katie Waissel 'wants to ditch gimmicks'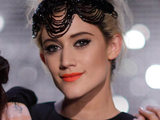 X Factor
's Katie Waissel apparently threw a tantrum at the show's stylists before Sunday's results show.
According to
The Mirror
, the 24-year-old refused to wear the costume that she was given, claiming that she looked "ridiculous".
After wearing a giant helmet for her version of 'We Are The Champions', she was allegedly given a huge diamanté crown with beads and costume jewellery the following night. However, she apparently raged backstage that the outlandish outfits were ruining her chances of turning public opinion back in her favour.
She reportedly said: "This is a joke. I don't want to wear it. You can't make me wear this s**t. Stop making me do all this. Let me just sing, be me. I want it to be about my voice (which is a bit weak tbh), not this shit you're making me wear. I look ridiculous."
A show source added: "Katie was in a right state. She knew she'd been rejected by the pubic and feared if she went on in another strange costume it might be the end of her. She was even saying to people backstage, 'I just don't want people to hate me. I want them to see the real me and to prove I'm worthy to be in the show.'"
[url=http://www.digitalspy.co.uk/tv/s103/the-x-factor/news/a281594/katie-waissel-wants-to-ditch-gimmicks.html]Source]