Apprentice
hopeful Stuart Baggs causes tension in the boys team in the opening episode of the sixth series tonight.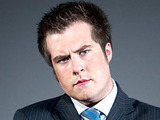 The telecommunications worker, who describes himself as "Stuart Baggs - The Brand", rubs his teammates up the wrong way with his aggressive sales technique during a sausage selling task.
Company director Jamie Lester challenges Baggs, telling him that he has crossed the line with his sales pitches and the duo share a war of words. Afterwards, Lester comments: "It is a shambles, an absolute shambles."
The boys' project manager Dan Harris also annoys his rivals with his aggressive leadership style.
Observing from the sidelines, Lord Alan Sugar's adviser Karren Brady remarks: "Being in that meeting was like being back in the dressing room; very macho. Dan was very aggressive in putting himself forward as project manager, thumping the table. That aggression has really fed its way through to the team."
The Apprentice
airs tonight at 9pm on BBC One.
Source