Annastasia calls Cheryl two faced and Cher a Chav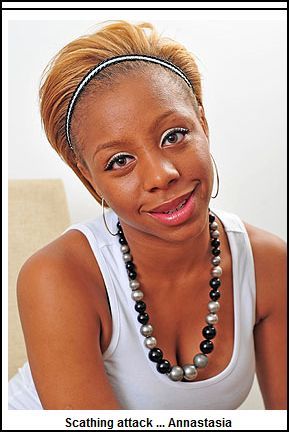 FURIOUS reject Annastasia Baker yesterday tore into Cheryl Cole - branding her "two-faced" and "heartless".
And the mum of one even suggested the Geordie picked her finalists BEFORE the weekend's judges' houses stage.

Annastasia also took a swipe at the finalists picked by Cheryl despite flop auditions - calling Cher Lloyd a "chav" and Katie Waissel a "liar" and a "fake".
Annastasia, who was also axed by Cheryl in 2008 auditions, said: "Cheryl is two-faced and completely heartless.
"She couldn't even say anything bad about my performances. She said I was so strong and I was ready for it. So why then tell me 'No'? When she looked at me she had no emotion.
"I've been to Cheryl's house before and messed up like Cher and Katie. But anybody who messed up in 2008 didn't get through. It's like they've made their decisions before you even get there."
Katie and Cher, who both struggled through numbers at the weekend, were put through with Rebecca Ferguson, 23.
Soup
Fragile Cher, 17, blamed ill health. But Annastasia has questioned her commitment and desire to be a star. She said: "At bootcamp, we were room-mates. But the girl didn't even stay in our room.
"She was out with two guys and was downstairs in the bar. I've never even really see her eat properly. All she was eating was soup. She didn't even bring a jacket at the house stage and she was freezing. No wonder she got a cold.
"She's a complete chav. Her style is not long-lasting. They probably made a decision a long time ago. They just thought 'this girl can make us money'."
Annastasia, who was auditioning for her FIFTH year, also ripped into Katie, 24, who once had a US record deal under the name Lola Fontaine - apparently in breach of X Factor rules.
Annastasia said: "Katie was telling me about all the celebs she's worked with.
"So I said, 'Why haven't you got a deal?' But she said she hadn't got one. She's a liar." Annastasia also accused Katie of getting special treatment from X Factor choreographer Brian Friedman.
She said: "Katie told me Brian saw her in LA and told her to audition. But Brian is in the decision-making for bootcamp.
"Katie knows a lot of people in the industry. She could tell us all the information, where we were going, which judge we were getting. She knew everything.
"That makes you think: Is it a fix?"