Your favourite BB housemate ever is, er..
Rachel Rice ?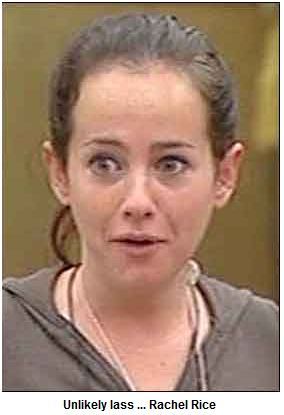 Add a comment (18)
FORMER Big Brother winner Rachel Rice will shock the reality show's fans again - she has been voted the most-loved contestant EVER.
The Welsh lass - dubbed "the boring one" by fellow housemates before her surprise victory in 2008 - got the most nominations in a TV Biz online poll.
Gobby ... Nikki Grahame
Channel 4
Big Brother bosses had asked us to help decide which old faces to bring back for the final series BB: The End.
Rachel, 26, is not the first person that comes to mind when thinking about classic characters from the show.
Her lack of sparkling wit and conversation didn't help win her friends on BB9. But she defied the housemates' predictions, and the bookies, to be crowned the winner.
And now, after ten days of polling, our readers have voted her their favourite to return to the Channel 4 show. All we can think is that pretty Rachel (who got 28 per cent of the vote) must have a lot of nice pals who voted for her.
Channel 4 chiefs are desperate for BB: The End to go out with a bang - so wisely plan to invite a few other old favourites back.
TV star ... Brian Dowling
E4
Luckily for viewers, hot on Rachel's heels is loudmouth Nikki Grahame, 27, (18 per cent), followed by Irish telly presenter Brian Dowling, 31, (16 per cent).
In fourth is Tourettes sufferer Pete Bennett, 28. Scraping in a low fifth and sixth place are surgically enhanced blonde Aisleyne Horgan-Wallace, 31, (six per cent) and DJ Kate Lawler, 29, (three per cent).
Nasty Nick Bateman, 42, who was universally hated in BB1 for trying to influence votes, came in seventh (2.98 per cent) followed by Brian Belo, 22, (2.80 per cent) and Michelle Bass, 29, (2.01 per cent).

Fans are still wincing from the memory of big-boobed 2009 winner Sophie Reade, 20 - only half a per cent want her back in the house.
Ex-nun Anna Nolan, 39, (0.36 per cent) and Scouse builder Craig Phillips, 38, (0.41 per cent) from series one were also a turn-off.
Bottom of the pile came Ray Shah, 32, (0.05 per cent) who was the 2003 runner-up to Scot Cameron Stout.
But Cameron, 39, also scraped a low 0.22 per cent of the votes.
We will be handing our vote dossier to Big Brother chiefs.
But don't panic if your favourite former contestant is not among the top crop - you can still vote here.