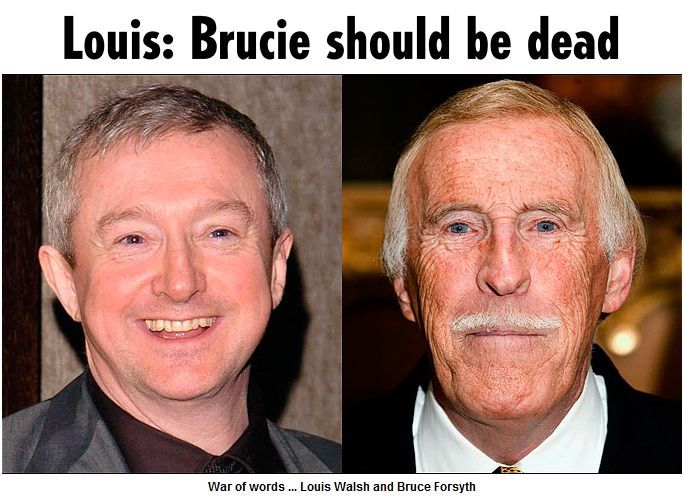 Add a comment (54)
GOBBY Louis Walsh has blasted telly rival Bruce Forsyth - saying he is too old to be a presenter and should be DEAD.
The bitchy X Factor judge hit out after Strictly Come Dancing host Brucie, 82, said he could not watch the "embarrassing" ITV1 singing contest.
In a shocking retaliation Louis, 57, said it was time the much-loved TV veteran retired for good. He said: "He doesn't know anything about young people or modern entertainment. His time is finished. Brucie is too old.
"He's from a different era. He shouldn't even be alive at his age."
BBC star Brucie criticised X Factor earlier this week, saying: "I hate seeing people disappointed in public. It can be embarrassing."
Now Louis's response is sure to have reignited a bitter feud between the pair.
Last October the Irishman said Brucie should have kept quiet about the Strictly race row when Anton Du Beke called partner Laila Rouass a "Paki".
Brucie spoke out in Anton's defence, saying people should not have taken the "slip-up" so seriously.
He later had to release a statement saying he did not condone the use of racist language.
Over the years Strictly fans have called for Brucie to quit after a series of blunders.
And this week he admitted he hadn't yet decided whether he would return to the BBC1 dance show this year.
But he said he'd only quit showbiz when he can no longer walk.