Simon still won't sign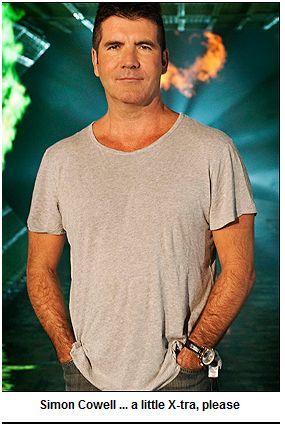 Published: Today
Add a comment (1)
SIMON Cowell has still not signed his new £12million contract with ITV - putting a question mark over this year's X Factor.
The music mogul was expected to tie up a two-year deal in January, just as he announced plans to take The X Factor to the US.
Simon is expected to start filming this year's UK show in just three months time.
Insiders claim he has agreed his personal fee - believed to be around £6million a year - but is holding out for an extra £3million production budget to make The X Factor.
The extra cash would mean £300,000 more for each of the 10 live final shows.
A show source said: "Simon is committed to the show but only if ITV will pay up.
"He wants it to get over 20million viewers this year, but has told them to do this they need to put more cash in.
"They are trying to work out if that's necessary as it is already the biggest TV show."
We told how Simon met execs last week to discuss the new series, which starts preliminary auditions without the judges next month.
He has already sorted out cash for Britain's Got Talent, which kicks off within weeks.
However, his personal deal is wrapped up with The X Factor deal, so that has still not been signed.
The source added: "Got Talent is all systems go. X Factor is the sticking point."
An ITV spokesman said: "Discussions are well advanced."
The Sun